Enjoy Staffordshire Canals at The Waterways Festival
Submitted by Admin on Wed, 27/07/2011 - 12:52
Visit the Destination Staffordshire marquee to discover more about all the canals in Staffordshire, and the world of possibilities the county holds for holidays and great days out! The Inland Waterways Association (IWA) Stoke-on-Trent branch has joined forces with Staffordshire County Council and arranged for local waterways organisations to exhibit in one marquee supported by the Destination Staffordshire tourism team.
In here you will find displays by the groups campaigning for the: Burslem Port branch, Caldon & Uttoxeter Canals, Lichfield & Hatherton Canals, Stafford Riverway, Staffordshire & Worcestershire Canal, and Trent & Mersey Canal, plus the IWA branches for: Lichfield, Stoke-on-Trent and Shrewsbury & North Wales, plus the Shrewsbury & Newport Canal campaigners – yes, that waterway joins the Shropshire Union Canal in Staffordshire!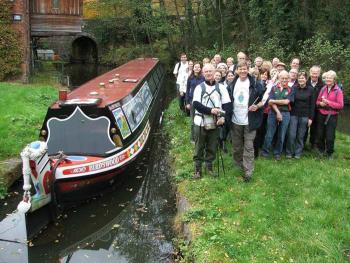 Ian Dudson completed his Staffordshire Canal Challenge at the Froghall terminus of the Caldon Canal
Photo Julie Arnold, Waterway ImagesAlso see the story of Staffordshire's canals by somebody who has walked all of them in the last year! The Waterways Festival at Burton-on-Trent is the first time the whole story of Ian Dudson's "Canal Challenge" has been presented set around the huge map of Staffordshire that was used to plan his 16 walks covering 154 miles. Photos taken on every walk describe Ian's highlights of each of Staffordshire's canals, along with his and fellow walkers' experiences. They walked all of the county's canals during his year as High Sheriff in 2010-11, raising money for The High Sheriff Fund charity. The challenge also allowed Ian to explore Staffordshire via its amazing network of canals - key to Britain's industrial revolution and especially the development the county's ceramic industry.
Ian Dudson is Chairman of the Stoke-on-Trent company Dudson – making ceramic tableware for the hospitality industry throughout the world. IWA Stoke-on-Trent branch Chairman Roger Savage and Julie Arnold, Chairman of Caldon & Uttoxeter Canals Trust, joined him on some of his walks – and Ian has since become a Patron of the Burslem Port Trust, the Stoke-on-Trent project to restore the branch canal to the "Mother Town" of the Potteries.
Along the way the idea of celebrating the Canal County of Staffordshire at the Burton-on-Trent Waterways Festival also germinated!
See them all there in the Staffordshire marquee, The Waterways Festival, Shobnall Fields, Burton-upon-Trent, DE14 2BB, Friday 29th - Sunday 31st July 2011 www.waterways.org.uk/