Jackson's Wood Express - an extraordinary train journey
Submitted by Admin on Sun, 07/04/2013 - 13:00
On Saturday 6 April over 130 "time travellers", fascinated by both waterways and railways, took a unique journey arranged by the Caldon & Uttoxeter Canals Trust on a rarely-open section of the Churnet Valley Railway along the route of the derelict Uttoxeter canal. They travelled to see the initial works undertaken by the Waterway Recovery Group to locate the remains of a 200 year old the canal lock and conserve the adjacent stone railway bridge, and view this beautiful section of remote Churnet Valley landscape in springtime.
The day also marked the 50th anniversary of the formation of "The Caldon Project", to save and restore the Caldon Canal to navigation - since the Committee, later the Caldon Canal Society and now Caldon & Uttoxeter Canals Trust, was first formed on April 4th 1963. The vision of these Caldon pioneers and the partnerships they formed led to the reopening of the Caldon Canal in 1974.
The special journey on the Churnet Valley Railway was arranged by the volunteers of the Caldon & Uttoxeter Canals Trust (CUCT) working in partnership with the volunteers of The North Staffordshire Railway Co. (1978) Ltd. (NSRC), the Charitable Trust which provides support to the Churnet Valley Railway. CUCT are working in partnership with the NSRC volunteers to conserve Jackson's Wood bridge on the Churnet Valley Railway and explore the adjacent lock site on the line of the derelict Uttoxeter Canal.
Both CUCT and NSRC are partners in the Churnet Valley Living Landscape Partnership; the CVLLP is supported by the Heritage Lottery Fund to conserve and enhance our unique landscape and heritage for all to enjoy. It is managed by organisations and local people who share a vision to ensure a sustainable future for the area.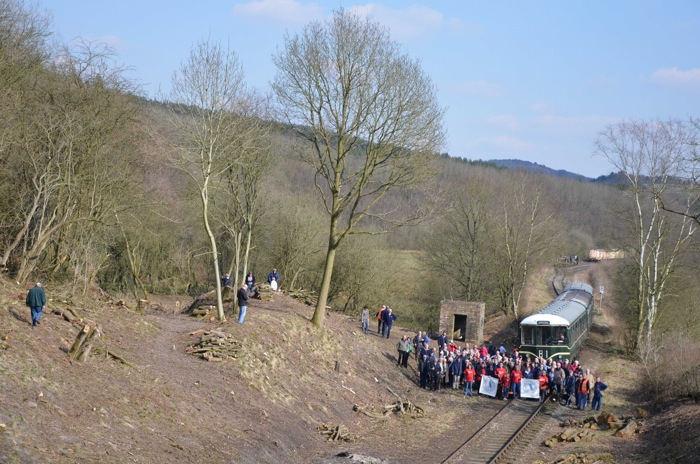 Jackson's Wood Express: Saturday 6th April 2013 - an extraordinary train journey: Back to the Future of the Uttoxeter Canal aboard the Jackson's Wood Lock Special "Express", and celebrating pioneer Caldon Canal partnerships formed 4 April 1963!