Waterway people have a chance to shine
Submitted by Admin on Thu, 09/06/2011 - 08:53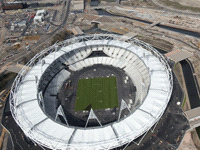 Olympic StadiumThe stopover points for the Olympic Torch were announced on 18 May – the route itself is top secret for obvious reasons - and is designed to spread the spirit of the London 2012 Olympic and Paralympic Games around the nation. But who will carry the Torch?
Do you know someone who is truly inspirational? Someone who always strives to do their best and adds real value to the waterways? This is your chance to give them their moment to shine.
With one year to go until the Olympic Flame arrives in the UK, London 2012 has launched the search for 8,000 Torchbearers to take part in the London 2012 Olympic Torch Relay. They will be individuals whose personal stories will inspire millions of people as the 70-day Relay travels the length and breadth of the UK.
The call to action for twofold. Firstly, can you think about and nominate volunteers who have been outstanding in their work for the waterways? Secondly, can you encourage partners to nominate 'heroes' too.
Together with their Presenting Partners Coca Cola, Lloyds TSB and Samsung, London 2012 need us to help them find the Torchbearers. Please go to the Olympic website at www.london2012.com/games/olympic-torch-relay  to find out more and make your nomination.
The closing date is 29 June