Waterway Welcome to Stoke-on-Trent
Submitted by Admin on Wed, 25/05/2011 - 17:00
Welcome signs have been installed marking where the Trent & Mersey and Caldon Canals enter Stoke-on-Trent by the City's Canals Partnership. The signs celebrate the rich waterways' heritage of the Potteries with a striking 21st century design and incorporate a map for those on the towpath and a tourist information leaflet box – accessible to canal users via a British Waterways facilities key.
Stoke-on-Trent Lord Mayor, Denver Tolley, unveiled the first sign at Harecastle on Wednesday 25th May 2011 – the penultimate engagement of his civic year as he retires at the Annual Council the following next day. The Lord Mayor and Lady Mayoress, Denver's wife Lynne, are themselves boaters and Denver, who has served Stoke-on-Trent continuously as a councillor for over 25 years, had vowed to celebrate the people of the city during his year in office. The occasion was an appropriate conclusion to their highly successful civic year which started with attending the 2010 Etruria Canals Festival and sparked the formation of the City Canals Partnership bringing together Stoke-on-Trent's voluntary canal societies, navigation authority British Waterways and the City Council.
The City Canals Partnership comprises: The Beatrice Charity, British Waterways, Burslem Port Project, Caldon & Uttoxeter Canals Trust, City Canals' Clean Team Volunteers, Inland Waterways Association Stoke-on-Trent branch, Stoke-on-Trent Boat Club, Trent & Mersey Canal Society and Stoke-on-Trent City Council.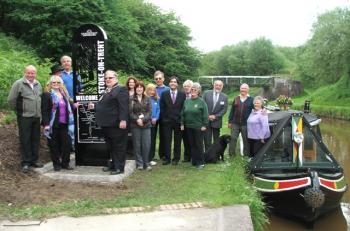 Welcome sign at HarecastleAt the unveiling Lord Mayor Denver Tolley thanked the representatives from all the partners for their full and wholehearted support, adding "Particular thanks to Hardial Bhogal Stoke-on-Trent City Council's Director of Place and to the conservation team led by Jane Corfield. All the partners continue to be fully committed; the signs are the first tangible outcome of the partnership, which aims to improve Stoke-on-Trent's waterways through monitoring development, advocating good design and promoting initiatives that enhance and celebrate the city's canals."
Volunteer Steve Wood of The Inland Waterways Association Stoke-on-Trent branch has been working over the last year with Councillor Peter Kent-Baguley (now retired), to coordinate the input from all the voluntary groups and the Council; Steve comments: "The City's Canal Partnership has brought the organisations interested in Stoke-on-Trent's waterways even closer together, and is enabling effective ongoing communication and cooperation on all types of initiatives from work parties, to canal conservation area reviews and master planning for the future."
Other signs are located at Trentham and on the Caldon Canal at Norton Green