Works under way at Caldon towpath collapse site
Submitted by Admin on Mon, 22/11/2010 - 16:28
in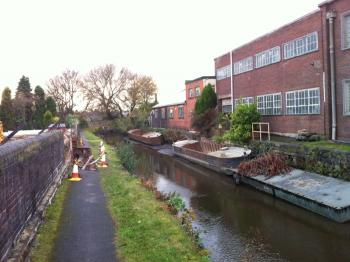 Grounded workboats adjacent to siteThe following update was issued by British Waterways on 22nd November 2010:
"BW are pleased to advise that works to the third party wall are now underway. The developers anticipate these works will be completed within three weeks; further updates will be issued in due course."
The canal was closed and as a precaution was drained by British Waterways after a section of the towpath collapsed adjacent to a develepment site on 10th November.
Previous story here.