Uttoxeter Canal - April update
Submitted by

CUCT

on 10 April 2018, 9:39 am
Dear all
My update this month starts with something a little dull but quite important. One of my high priority tasks at present is compliance with the new GDPR regulations about the way that personal data is stored. If you are receiving this message it means that we have your email address stored by our mailing list software. The list of addresses has grown organically over a number of years from various sources but I do not have a record of each of you specifically consenting to receive this newsletter by email. This is a requirement of the new regulations so I have a very small (and quick!) favour to ask of you all - please go to the new CUCT website https://www.cuct.org.uk and sign up for our new mailing list which will be used from June onwards. The link is about half way down the page. There is nothing different about this list but by completing this process you will confirm that you want to continue to receive this newsletter. The system will send you an email and you will need to click the link to confirm that you wish to continue to subscribe. From June onwards my newsletter will go to those who are members of the new list only and the old list will be deleted.
As you will spot while you are there the new Trust website has now been published. I'm still spending quite a bit of my free time updating things, mostly image links that have broken in the move from the old site. There is still some way to go but we're getting there. I'm hoping to publish a lot more information about the Uttoxeter Canal on there in the coming months, as time allows. If anyone would like to join in by becoming an editor on the new site do please get in touch. I doesn't need any great technical skills, indeed the process is quite similar to posting on social media.
Speaking of social media (and with an eye to what month it is) I hope you enjoy this photo of Bridge 70 which appeared on my own Facebook page a week last Sunday.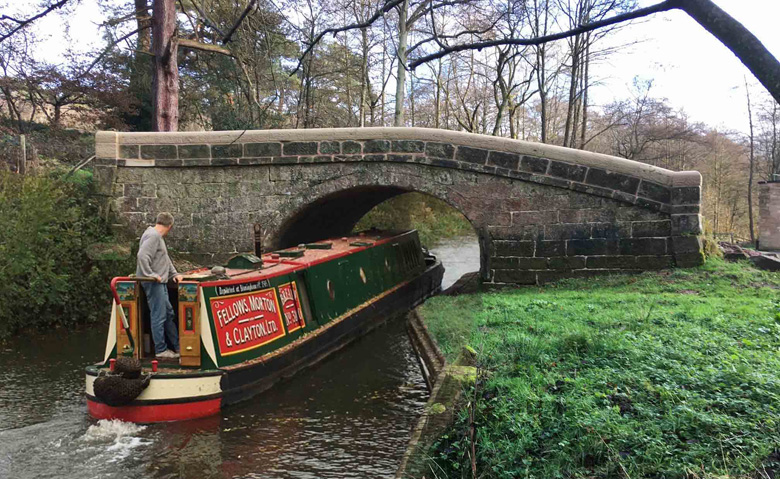 One day I'll do this for real!
Thanks to everyone who turned up at our work party in March. We made great progress completing the clearance of vegetation around the milepost near to Bridge 70. This month we are going to look at a new area - the section of towpath between Crumpwood and Alton. For this, our meeting point will change. Instead of Denstone, we will meet near to Alton Station, on Farley Lane, very close to Alton Towers. For those using satnav, put in ST10 4BY. The work site is a short walk from this spot. There is parking off-road down a slope parallel to the railway, opposite the station. please do not block the parking at the station, which is used by Landmark Trust guests. I will keep an eye out for people arriving between 9:45 and 10am. If anyone needs more detailed directions please get in touch.
The task will be to clear the towpath of low-lying vegetation, but also to some extent to explore it as we have never looked closely at this area before. The nesting season is now beginning so we will need to be particularly careful about where we are working, but it should be an interesting day. All tools and equipment will be provided. Volunteers are advised to wear old clothes, stout shoes and to bring waterproofs in case of rain and a packed lunch if staying all day. It is helpful to know if you are intending to be there as I can then advise of any late changes of plan.
Best regards
Steve