Uttoxeter Canal work party update - November 2018
Submitted by

CUCT

on 6 November 2018, 11:01 am
Dear all
It's been a little while since my last newsletter, but that doesn't mean we have been inactive; indeed far from it. Over the summer months our volunteers have been working between Crumpwood Weir and Bridge 70, keeping this important site tidy and visible for visitors. The posts at Carrington's Lock have been finished and painted, so this area is looking much tidier, as well as being safer for South Staffs Water staff driving down the track to the water works.
We hosted the Northern Canals Association meeting at Denstone Village Hall on 7th October, after which we took our visitors from canal societies across the north of the country to Crumpwood to see the progress made there since their previous visit in 2008.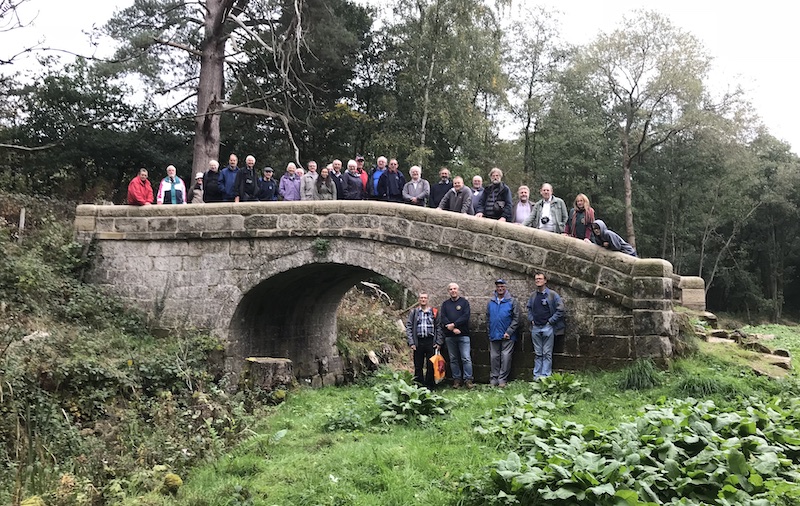 Northern Canals Association visitors at Bridge 70 - photo © Julie Arnold/Waterway Images
Last month we started to explore the spill weir in the Alton section, first identified earlier this summer. Our volunteers quickly uncovered the top of this structure which was buried just below the surface. It  and appears to be largely still present, barring one corner which has fallen away, possibly as a result of tree root damage.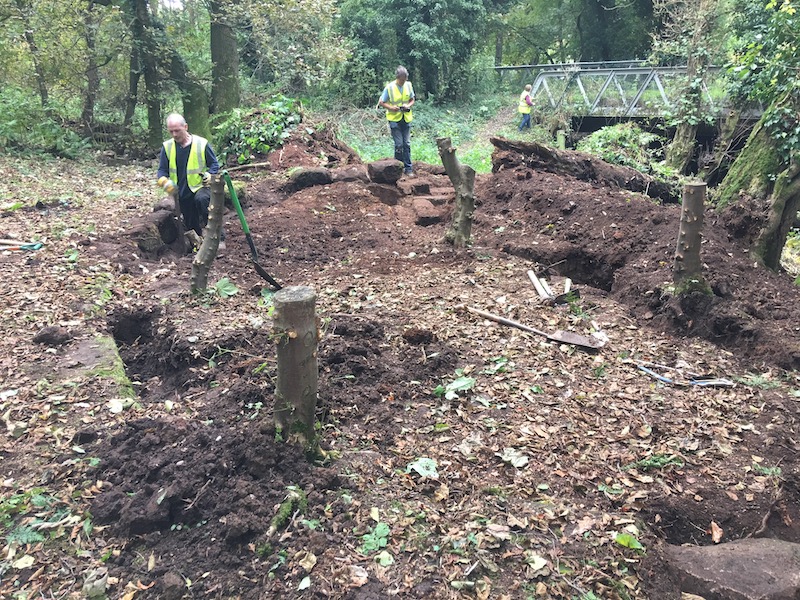 Spill weir excavations October 2018 - photo © Steve Wood/CUCT
Over the next few months this area will again be the focus of our attention as we would like to clear as much of the path as possible before next summer. As well as our own monthly work parties we will again be hosting our friends from Waterway Recovery Group, with WRG North West joining us for a weekend in December and our old friends from the Forestry Team returning for a week in February. I am hopeful that by late spring we will have completed the clearance of this section and can start to work out how to repair the two washed away sections which will need to be reinstated before we can open up this mile-long section of towpath to walkers. Reinstatement of the spill weir is key to this as the washed away sections are a direct result of the original spill weir becoming blocked up.
This month we will be returning to this site to continue work on the spill weir and also to resume our vegetation clearance along the towpath which was started in the spring, but had to be put on hold during the nesting season.
Those travelling by public transport can meet either at 9:30 in the car park at Denstone Village Hall or 10:00 at Alton. We meet near to Alton Station, on Farley Lane. For those using satnav, put in ST10 4BY. There is parking off-road down a slope parallel to the former railway, opposite the station and we meet by the gate onto the line, which is now a public path. Please do not use the parking area on top of the bridge, as this is used by Landmark Trust guests. If anyone needs more detailed directions please get in touch.
All tools and equipment will be provided. Volunteers are advised to wear old clothes, stout shoes and to bring waterproofs in case of rain and a packed lunch if staying all day.
This work party is jointly led by the Inland Waterways Association North Staffordshire & South Cheshire Branch and Caldon & Uttoxeter Canals Trust.
Contact: Steve Wood
Tel: 07976 805858
Email: steve.wood@waterways.org.uk
This newsletter
Thanks to everyone who has now signed up to this mailing list. Please do tell others about our project by linking to the CUCT website by email or on social media. The newsletter also appears as a news story on our website so you can share it to anyone who is interested.
Best regards
Steve