Uttoxeter Canal March work party
Submitted by

CUCT

on 11 March 2019, 7:55 am
Dear all
We have a work party coming up later this week on Thursday 14th March on the Uttoxeter Canal at Crumpwood. We will continuing the work we started last month, cutting back vegetation regrowth on the offside of the canal at Bridge 70. The photo below shows the area that we are working in. As you can see the weather was very kind to us and whilst I can't promise sunshine this time, I can guarantee a fabulous setting!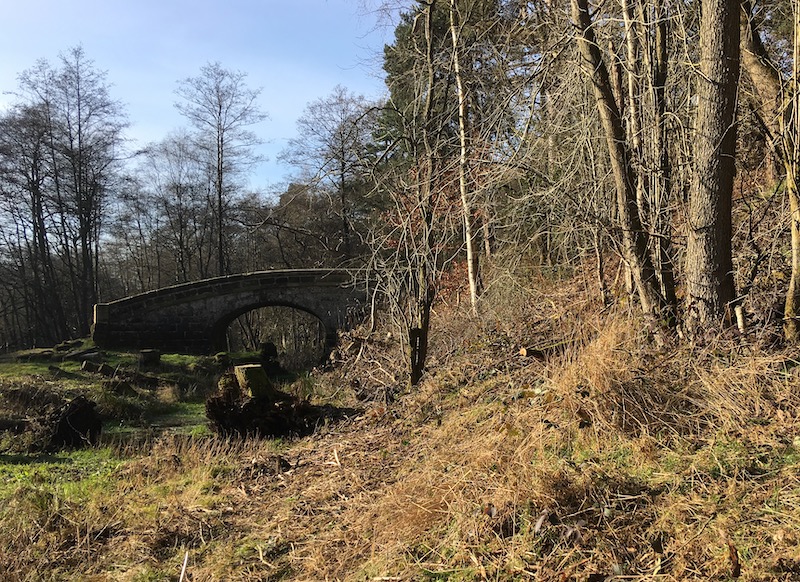 In addition to this, a small dig was done on the opposite side of the bridge where it was suspected that another spill weir may be located, based on a study of old maps. Rob soon found the location and within a short time had confirmed that this was indeed the case. A small amount of stonework was found, partially buried under tree roots. It is amazing that such features persist, given that the canal closed in 1849, but is a tribute to the navvies who worked on this section that so much of their handywork has survived despite no maintenance in 170 years.
One of our aims for this year is to improve management of the area around the lock and bridge, as this became slightly neglected when we moved onto the Alton section last year. There has been some discussion about starting a sub-group specifically to maintain the Crumpwood section, so that more regular work parties can easily be held (and without me needing to be there to lead.) As some of you will already know, we have had discussions about a possible tool store using an unused building on site which will make this a lot easier. There is no update on this yet, but watch this space. If you are interested in joining our Crumpwood group, and especially if you do not already come to our work parties, I'd really like to hear from you and we will let you know as our plans come together. This is a beautiful area and a small dedicated group really could make it look lovely if they were able to visit more regularly, without the need for any overly physical work.
No parking is available at site so please meet at 9.30am at Denstone Village Hall, College Rd, Denstone, Uttoxeter, Staffordshire ST14 5HR for a lift, or meet on site at Bridge 70 at 10am having made your own way on foot. The site is a little over a mile walk down the old railway track from either Denstone or Alton. When you see the laid section of towpath, walk down this past the bridge towards Crumpwood Weir.
All tools and equipment will be provided. Volunteers are advised to wear old clothes, stout shoes and to bring waterproofs in case of rain and a packed lunch if staying all day.
This work party is jointly led by the Inland Waterways Association North Staffordshire & South Cheshire Branch and Caldon & Uttoxeter Canals Trust.
Contact: Steve Wood
Tel: 07976 805858
Email: steve.wood@team.waterways.org.uk
Best wishes
Steve